About
"I was raised in the Mile-End and I'm especially proud of the bonds I've forged in this neighbourhood over the years with the locals and visitors alike."
Les P'tits Enfants de Felice is a space for you to create similar bonds with the community. It is a gathering space in the Mile-End with a welcoming and lively atmosphere.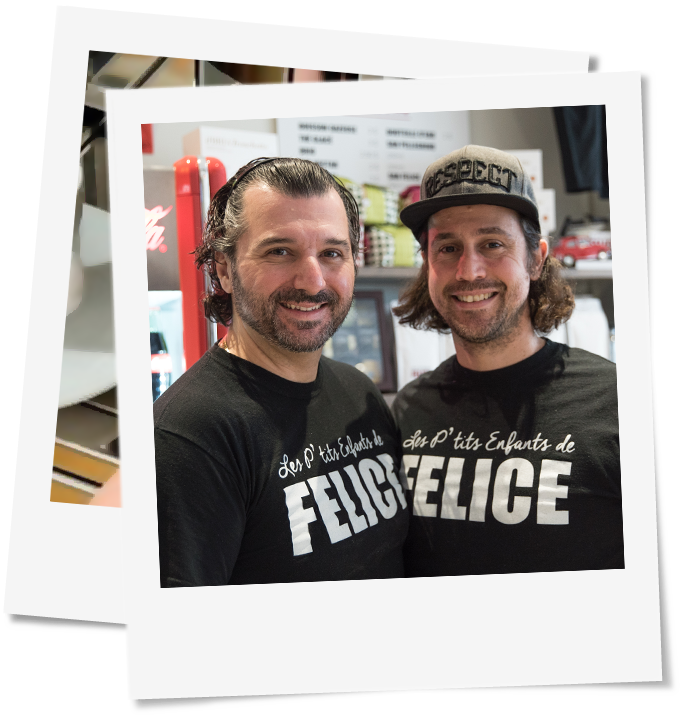 Services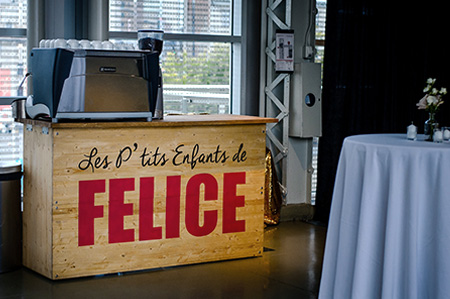 Espresso Bar
Our espresso bar is available for event hire in and around Montreal. Our experienced baristas and top of the line espresso machines will create the exact coffee experience you are looking for.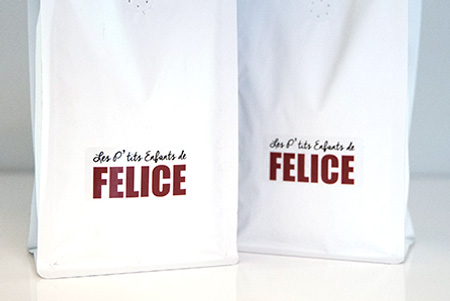 Coffee Bags
Buy our locally roasted house blend and enjoy the unique taste of Café Felice in the comfort of your own home.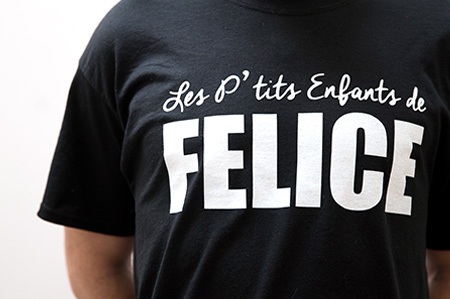 Merchandise
Rep the brand and get your own Café Felice shirt. Wear it proudly!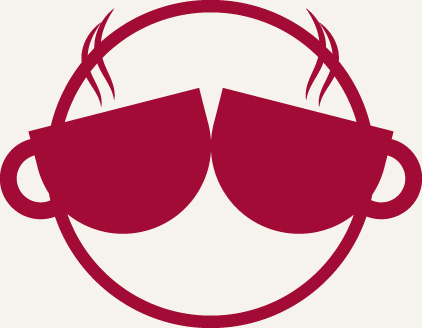 Amazing friendly and quick Italian cafe! Cappuccino and iced coffee was good. Bagel with smoked salmon tasted delicious. They serving up St Viateur bagels 🥯😋 - Karen

We were just taking a walk and wanted a coffee and randomly saw this little cafe. There were a lot of people outside on their little terrace. It had a good community feel. The staff is really nice and know their craft very well. Although crowded, it was a good experience because of that community feel. You won't be disappointed if you visit. - Hoan-Vu La

Went in with a large group of about 15 people on a Sunday morning and they did not hesitate. They were well organized and took our orders down and drink orders down and got right to it. Served us really quick and got us out of there fast as we had flights to get to. Highly recommend for those who would like to try the bagels from around the corner in a sandwich. Main reason why we went but now that I know it's where to go will always be my new go to for a morning coffee and bagel sandwich. Great team. Highly recommend to check them out. - Sr Jey

It's always crowded, but they always greeting you well. Bagels come from bagel shop in St. Viateur. Americano is one the best Italian style coffee (why should I call it Americano?) - hamed farmand

The gentleman at the front making the coffee was Vinnie....what an awesome guy! Super friendly, fun, personable and professional. In addition, he made excellent cappuccinos! I would definitely come back! - Paul Vetrano
Contact Us
Address

5563 av. du Parc
Montreal, Quebec
H2V 4H2

Hours

| | |
| --- | --- |
| Monday | 5:00 am - 6:00pm |
| Tuesday | 5:00 am - 6:00pm |
| Wednesday | 5:00 am - 6:00pm |
| Thursday | 5:00 am - 6:00pm |
| Friday | 5:00 am - 6:00pm |
| Saturday | 5:00 am - 6:00pm |
| Sunday | 5:00 am - 6:00pm |

Phone

514-277-7033

Email

info@cafefelice.ca